The .308/7.62NATO has become one of the most popular cartridges in history. Certainly, it's one of the most popular hunting cartridges ever to come along, capable of taking a wide range of game animals.
The military has made extensive use of it, with most General Purpose Machine Guns (GPMG) being chambered in 7.62 NATO, including the M-60, M240, various Mini-Guns, and Germany's MG-3, just to name a few. Additionally, military snipers have been using it for decades, as well as their law enforcement counterparts.
M80 Ballistics
The weight of the Winchester M80 Cartridge is 149 grains, and it is Full Metal Jacket (FMJ). According to Winchester, muzzle velocity at the muzzle with this 7.62mm round is 2,790 Feet Per Second.
At 100 yards, it is 2,591 FPS.
At 200 yards, it is 2,401 FPS.
With a 200-yard zero, the bullet drops 7.9 inches at 300 yards.
At 400 yards, it has dropped 22.9 inches.
At 500 yards, it drops 46.1 inches.
Naturally, this is all going to depend on certain factors: The length of the barrel will play a huge role. Atmospheric conditions such as elevation, humidity, and temperature will also play a role.
Details
This 149-grain ammo is loaded in Lake City brass cases that exhibit some minor visual imperfections. If you're looking for pretty, sparkling, polished ammunition, this might not be the one for you. However, if you want something that will simply perform, then this is great stuff!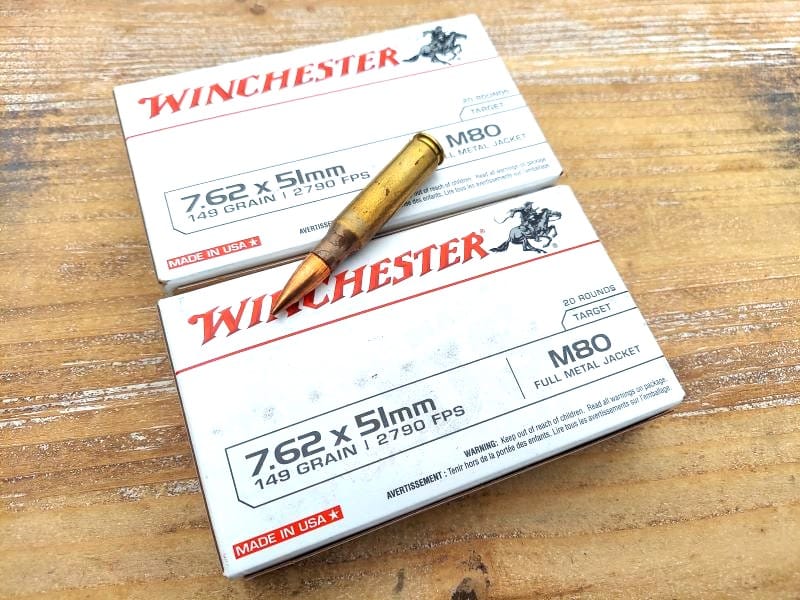 I also want to add that this is not the first time I've used this ammunition. Aside from these .308 bullets from Winchester, I've also used their other "White Box" offerings for years, including 9mm and 5.56mm. I've never had an issue with it, it's always performed well. Non-corrosive, Boxer primers are used, with Winchester powders, components, and bullets.
Uses
This Winchester 7.62x51mm is great for range training or plinking. I'd also not hesitate to keep my magazines loaded with it in the event that I needed to ward off attackers at the homestead. As Colonel Cooper liked to say, this is a round that, when you shoot something with it, "It stays shot." The 7.62 is no joke, it hits with authority.
Of course, we not recommend this FMJ round for hunting unless I were in dire straits. Sure, it'll take a deer down, but there are far better rounds to use for such forays.
This is also not a round to expect sub-MOA (under one inch) groups from. With that said, it's plenty accurate for normal use, as long as you understand it's not necessarily match-grade ammunition.
These days, .308/7.62mm ammo is among the most expensive in FMJ form, even when we're talking about military surplus. As this is written, GunMag Warehouse officers this Winchester 7.62x51mm ammunition for $19.99 per 20-round box. That's a pretty good price when compared to a lot of other ammo on the market out there.
The Platform
At present, we only have eleven rifle that shoots 7.62mm, which happens to be an  M1A Scout Squad Rifle from Springfield Armory. Since I have your ear, I might as well rave about this rifle and give you a quick rundown on it.

Subjectively, I will say that the rifle is a pure work of art. The Walnut stock is simply gorgeous. Objectively, the rifle has an 18-inch barrel that's topped off with a muzzle brake that's very effective at dampening the recoil. However, between that muzzle brake and the short barrel, coupled with the 7.62 round, this rifle has a noisy muzzle blast. That short barrel makes it a real joy to handle. It maneuvers in confined spaces far better than a full-size M1A.
I enjoy the legendary reliability that the M1A (and its father, the M-14) has always been known for. It's a proven design, even if some might describe it as antiquated. Despite that, the platform is still serving in parts of the world on the battlefield, which is a testament to its effectiveness.
Firing the M1A is, in my opinion, exceedingly satisfying. The rotating bolt makes a distinctive sound and feel when firing; you can actually hear it clanking. Recoil is more of a push, not sharp at all. The muzzle returns to the target easily. It's much more pleasant than firing a bolt action in .308, thanks to the recoil system.
I thought it quite appropriate to pair up this M1A (given its roots) with this cartridge, both of which were designed back in the early 1950s. Kind of like a match made in heaven.
Accuracy
For this particular range outing, I was ringing steel, rather than shooting for groups. A good session ringing steel can be so gratifying!
I mentioned that I'd used this ammunition before extensively. Prior experience indicates that I can expect groups in the 2.5 to 3-inch range with this ammunition. Considering I use open sights and a military-style rifle, I consider this to be quite respectable. When we factor in my aging eyes, which are not nearly as sharp as they used to be, it's nearly astounding! As mentioned, this isn't match ammo, and it's not pretending to be.
Yes, if I fired it through a sniper rifle, perhaps I could shave off up to an inch or so (though I'm not sure because I've never tried that, nor am I likely to try). It's just not intended for such uses.Buy 7.62mm M80 Online